Welcome to the future of payments with the Sonata Mastercard® Debit Card!
Tired of carrying around a bulky wallet? Ready for a seamless, secure, and straightforward way to pay? Say hello to the Sonata Mastercard® Debit Card, designed to give you the freedom and flexibility you need, right at your fingertips.
Unleash the power of your pocket
With our cutting-edge Sonata Mastercard® Debit Card, you can shop, dine, or travel with confidence, knowing it's accepted at millions of locations worldwide. So, whether you're buying the latest sneakers, treating your friends to a meal, or booking that dream vacation, we've got you covered!
Stay in the know with real-time transaction alerts
Nobody likes surprises when it comes to their finances. That's why we send instant transaction alerts straight to your phone, keeping you updated on your spending habits and account balance. It's like having a personal financial assistant right in your pocket.
Misplaced your card? No problem!
We get it—life happens. If you ever lose your Sonata Mastercard® Debit Card, simply disable it within our user-friendly mobile app to prevent unauthorized transactions. When you find your card, you can reactivate it just as easily. It's all about keeping your money safe and secure.
Embrace contactless payments with mobile wallets
Ready to experience the convenience of mobile payments? Our Sonata Mastercard® Debit Card integrates seamlessly with Apple Pay and Google Pay. Just add your card to your preferred mobile wallet and tap to pay at participating retailers. It's that simple!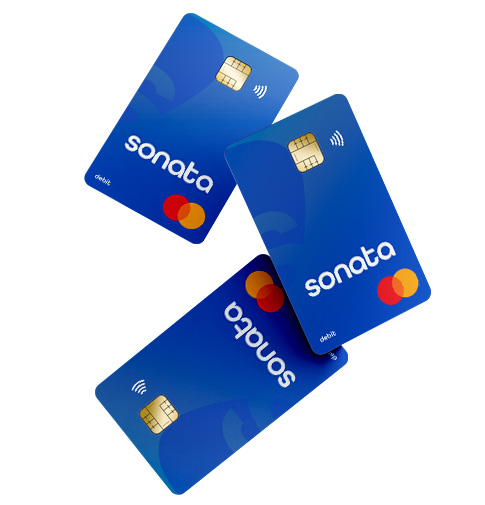 So, what are you waiting for?
The future is calling, and it's time to make the switch to the Sonata Mastercard® Debit Card. Get ready to enjoy a new world of secure, easy-to-use payments tailored to your lifestyle.